I've sent an email to the
first group
. We are still missing four states: Delaware, Louisiana, Rhode Island, and North Dakota, but I think we'll be ready to start swapping next week. Yay!!! So exciting!!!
Keep checking the other two groups. They are getting there!
Group 2
Group 3
I have quite a back up list. I haven't been able to send an email to all of you yet. I am working on it. I am hesitant to start more groups yet because some states seem harder to fill than others, and I don't want to start a group that I won't be able to complete.
I did receive an email from Debbie about a slightly different kind of postcard swap that she is organizing. Check it out on her blog:
Children Grow, Children Explore, Children Learn.
Also, Tanya has started another postcard swap. Check her blog,
Tanya Peila,
for details.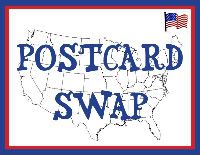 I would normally have a Wordfull Wednesday post today, but that just didn't happen. If you would like to read some great WW posts today, head over to
Chocolate on My Cranium
.
Have a great day!!!